Line Card
CNC Mills and Lathes
Haas VF-10 Vertical Machining Center (120" x 32" x 30")
Haas VF-7 Vertical Machining Center (84" x 32" x 30")
Haas VF-4 Vertical Machining Center (50" x 20" x 25")
Haas TR310, 5-Axis Rotary Table (12.2" diameter)
Haas ST-10 CNC Lathe (7.88" x 14")
Special Equipment
Crest F1251HT Ultrasonic Cleaner (51" x 14" x 12")
Sheffield D-28 Coordinate Measuring Machine (CMM) PC-DMIS, 36" x 28" x 30" (XYZ)
Manufacturing Support
CAD/CAM Software Support for SOLIDWORKS, ANSYS, Mastercam, Mechanical Desktop, PC-DMIS
Manufacturing Engineering
Reverse Engineering
Drafting
Fabrication & Assembly
Fiber Composite Layup
Certified Welding
High-strength Structural Bonding Assembly
Sheet Metal Fabrication & Riveting
Electromechanical, Harness, Hydraulic & Pneumatic
Large System Builds, Assembly & Kitting
Materials
Aluminum Alloys
Copper, Brass, Bronze Alloys
Stainless, Carbon & Tool Steels
Exotic Alloys (Magnesium, Titanium, etc.)
Composites
Plastics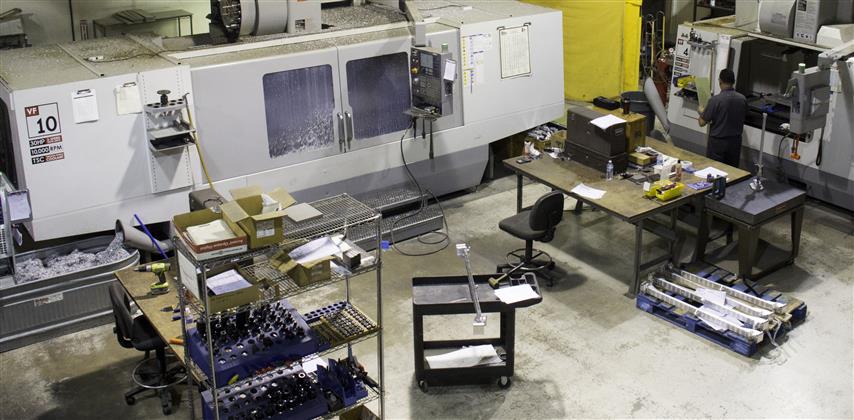 Why CFD?
EXPERIENCE

We're not just a pretty website; we've actually done it. For 32 years. While successfully navigating the complex regulations of AED, FAA, DCAA, DCMA, BATF, DDTC (ITAR), US Customs, DLA and on and on...

AGILITY

We are a small business of about 40 employees. Our low inertia allows maximum flexibility to shift resources where needed most. We maintain direct control over manufacturing of parts in-house and we perform all assembly in our Princeton, TX plant. We are not at the mercy of outsourced suppliers. CFD does engineering, prototyping, testing, tech pubs, manufacturing and assembly all in-house. Popular phrases heard around CFD are "let's make it happen" and "we control our own destiny".

IN-HOUSE RANGE

CFD operates a private test cell capable of up to 30mm automatic fire. The range, coupled with our Class 10 Federal Firearms License (FFL), enables us to move uninhibited from concept through qualification.